Six Month Smiles Clear Braces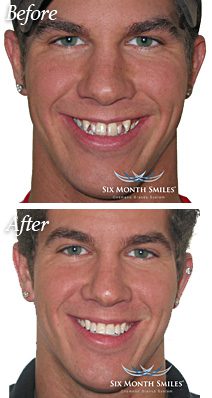 Six Month Smiles Cosmetic Braces
Six Month Smiles® are a cosmetic dental procedure specifically designed for adults and older teens that have crooked, crowded or spaced teeth. If you want a straighter smile and don't have a misaligned bite, these fast braces may be the answer to your hunt for subtle teeth straightening options.
Six-month braces are: Fast, Comfortable, Virtually Invisible, and Insurance Approved
Are Six Month Smiles Right for Me?
Six Month Smiles® are the perfect solution for people who want to straighten their teeth but are concerned about the drawbacks of traditional braces. You could be a candidate for Six Month Smiles® if:
Your teeth are slightly crooked
You are 15 or older
You don't want the hassle of conventional braces

(716) 568-2273
If you have any questions about our services, please don't hesitate to call Williamsville Family Dentistry today!