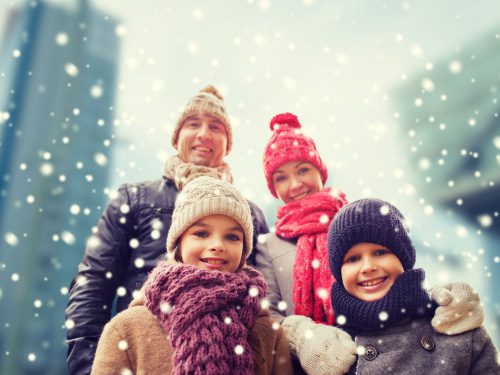 The most important aspect of a perfect family photo are your family members' smiles. We've put together a few tips to help make your smiles the best they can be for your family portrait.
1. Practice Good Oral Hygiene
The first step is to make sure everyone is practicing good oral hygiene. Your smile is often the first thing people notice in pictures and in real life, so be sure you're putting your best self forward. Make sure you and the rest of your family are brushing your teeth at least twice a day, two minutes each. It's also important to floss and rinse daily, and to use fluoride toothpaste to ensure you have a healthy and happy smile.
2. Whiten Your Teeth
Whether you are using whitening toothpaste, over-the-counter whitening strips, or getting professional whitening treatments, a white smile always looks great in photos. If you're interested in professional whitening, schedule an appointment with us to figure out your best treatment options.
3. Show Some Teeth When You Smile
A smile needs some teeth, so don't be afraid to show off those pearly whites! You don't have to give an ear-to-ear smile, but showing some teeth will brighten your face. Practice in the mirror to find a toothy grin that is right for you.
4. Wear the Right Shade of Lipstick
For women, choosing the right color lipstick is important, especially when it comes to pictures. Certain shades will help to downplay the yellow in your teeth while others will make them look whiter and brighter. Rich berry reds will contrast with your teeth to make them stand out while shades with blue undertones can reduce the appearance of yellow in your smile. Stay away from orange or yellow shades that will make your smile look duller.
5. Don't Wear White or Yellow
No matter how blindingly white your teeth are, it's always best not to wear white. A snow white sweater may make your teeth look dull by comparison. Similarly, don't choose a yellow color to wear as that could make your teeth take on a yellow hue.
Another way to make sure your smile is looking its best is to come in for regular check-ups and cleanings, so call us to schedule an appointment today!
Contact Us
Come in today for a cleaning or professional whitening to improve your smile!